Review:
AIO is in a cycle with this album. The album contains basically one of everything, to keep happy each possible AIO listener. There is an episode which advances all of the present AIO storylines (Malachi's Message), a check in with the new family (In All Things Give Thanks), a mystery with the regular AIO kids (Buried Sin), a Bible story (The Tower), an action episode (Gloobers), a historical episode (Telemachus), a couple variety shows (BTV, The Devil Made Me Do It), and, of course, a "standard" episode with regular people (Not-So-Trivial Pursuit). Certainly you'll get variety in this package and have all kinds of different stories to hear. The only annoying thing about this method is that we only really get one story (Malachi's Message) that deals with the present storylines in Odyssey. Almost all of the others are great stories, but they don't tell us much about the characters.
The album begins with its best episodes, the three-part Malachi's Message series. Somehow this story manages to advance every storyline in AIO while telling an exciting, interesting, and emotional episode. All of the characters have matured to such a degree that they all feel at home together. Those scenes at Whit's End with all of these characters that we have come to know are probably the best in the episodes simply because we get to hear all of our favorite characters together again. Think about it. The only other episode where we got to hear all of the characters together was For Whom the Wedding Bells Toll.
After checking in with all the main characters, we get to check in with the isolated Mulligan family. No matter what this family does in these episodes, they always feel like they are living in another world from Odyssey since they almost never interact with any AIO characters and are never mentioned in other episodes. Sure we had brief stop-ins with Whit and Tom, but mostly the family seems to keep to itself. The places described in the episodes don't sound too much like Odyssey either. Somehow, in future episodes, if the Mulligan family continues to be in Odyssey, they really need to get out more. This episode, on its own, is a decent one, but the Mulligans are wearing thin. The episode isn't bad, and I like the issues it confronts and discusses. Like other Mulligan episodes it contains scenes that its hard to "visualize", but overall it works.
The Devil Made Me Do It and BTV:Forgiveness are in the very same vein. Both contain a number of sketches that contribute to larger point. Most of the sketches are good in these two, but the one that really stands out is the "20/200" one in The Devil Made Me Do It. It has all those elements of parody, humor, and dialog that make AIO comedy work. I'm sorry to say that this BTV is the weakest one yet. Some of its skits just feel tired and lack the originality and fun that has always been a part of this show in a show.
Buried Sin is one of those AIO mystery episodes that lets you work right along with the characters to solve the mystery. Just like all great AIO mysteries, the plot surrounds an initial incident that slowly leads to a bigger story and is unraveled by some of the characters. One problem with this episode, however, was that it seemed to end very quickly and rushed through the closing information. Perhaps if it were expanded to two episodes, it would feel more detailed and less rushed.
The Bible episode was the The Tower, the very first Imagination Station Bible episode since way back in AIO305: St. Paul: Set Apart by God in album 23. It's been so long since characters used the Imagination Station for a Bible story, it takes just a minute to get used to it. Once we're in the flow of things, however, the episode flows right along. The episode dramatizes only nine verses from Genesis 11, but wonderfully expands the story to an entire episode. The story has some great sound effects and is an interesting variant to some AIO Bible episodes.
Not-So-Trivial Pursuit and especially Gloobers are the two weakest episodes from this album. Gloobers deals far too much with action, which could potentially work for a television program, but for an entirely audio experience like AIO, it falls flat. Most of the time characters are running through hallways or climbing around while desperately trying to explain to the listener what they are doing since we can't "see" them. The episode has a few interesting scenes about "time" and "life" being the same, but overall it doesn't work. Not-So-Trivial Pursuit is a far better episode, but with all these other episodes confronting big issues and stories, it feels out of place.
Finally, Telemachus ends off the album with a historical story about a monk in the Roman era. The episode does a good job at playing up the thoughtful monk Telemachus and has a variety of interesting characters. The sound design, like almost all AIOs, is spectacular. All of the scenes at Rome with immense crowds are amazing, with the Collesium being especially notable. A lot of the music for this episode felt derivative, mainly taken from other episodes. For "event" episodes like this one, it would be nice to get brand new music. While this episode isn't quite as good as some of the other AIO historical episodes (such as Patrick: A Heart Afire), it is a good addition to this set.
Despite its "cyclic" feel, this album gives a good variety of storyline for hours of entertaining listening. I'm just hoping with the next album, they will integrate the major AIO storylines throughout the episodes instead of pushing them in all into one story.
Favorite Episode: Malachi's Message
Rating: 3 1/2 stars
Notes: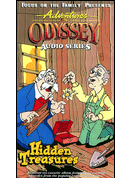 The pre-production sketch of the cover.
Order the Tape:
Order from FOTF
Order from CBD
Order from Tommy Nelson

Order the CD: