August 2001
Back to News Archive
Back to AIOHQ Home Page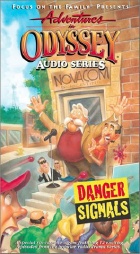 Final Album Cover Art
August 13—Check out the final cover art for album 36, Danger Signals. (at right)
Get the Latest Odyssey Scoop
August 13—Check out the latest Odyssey Scoop article. This one is written by a 13-year-old Odyssey fan and features Eugene doing karate.
Odyssey Times
August 13—Read Issue #12 of The Times to see what's happening in Odyssey.
A Day in the Life of Alex Jefferson
August 13—Read about a day in the life of Travis Tedford, the actor who plays Alex, written by Travis himself.
Adventures in Odyssey is a presentation of Focus on the Family. All characters and episodes are copyrighted by FOTF. This site is not in any way affiliated with Focus on the Family.