February 2002
Back to News Archive
Back to AIOHQ Home Page
Odyssey Scoop - March
February 26 —Find out about St. Patrick's Day. (Thanks to OdysseyFan for the heads-up.)
Eugene and Katrina Wedding Reception Held at Focus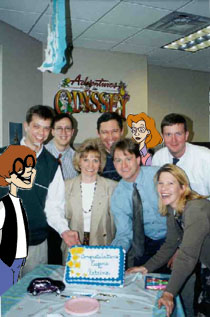 February 7—Members of the Official Site's Wonderworld Kids Club can now check out the "Inside Odyssey" section to see pictures from Eugene and Katrina's wedding reception that was held Monday, January 28.
Script Contest
February 7—The Official site is also sponsoring a contest that allows kids under the age of 15 to write a scene of Adventures in Odyssey to be recorded in a future show. Check out the full details in Wonderworld.
Adventures in Odyssey is a presentation of Focus on the Family. All characters and episodes are copyrighted by FOTF. This site is not in any way affiliated with Focus on the Family.