JANUARY 2000
Spring Season 2000 News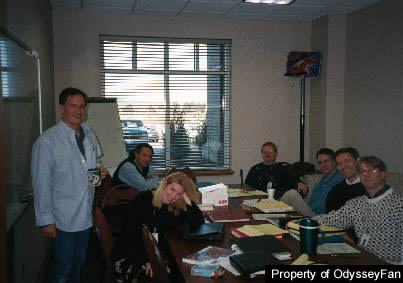 Here's a picture of the writers at the last meeting in January. (Note the basketball hoop in the corner.)
With a new Spring Season coming up, a lot of speculation is going around. Here's a report on what's coming up. A special thanks to Phil Lollar, Marshal Younger, and Odyssey Fan for their help on this article. Some might consider some of this information to be very minor spoilers, so be cautious if you don't want to know anything at all. Here is what has been confirmed:
The season will begin on March 4 end in late May. There will be 13 or 14 new episodes. The season finale will be the airing of the live episode recorded at the National Religious Broadcasters conference in February.
The next AIO meeting is scheduled for late March.
Katrina, Jason, and Richard Maxwell will not be back in the Spring Season.
The episodes of the spring season will be in much the same flavor and aimed at the same audience as the fall season of 1999 (much of the "kids slice of life" type shows.
Phil Lollar is still working on the Young Whit books, the first of which will be released sometime in the not-so-distant future.
Nick will continue to work at Whit's End. A few episodes of the spring season involve this story.
There will be no major "plotlines" in the spring. Most episodes will continue to be "seperate" of each other, just like the Fall 1999 season.
About half of the episodes will be split. It was previous reported that anywhere from most to virtually all of the episodes would be split. Upon going over the scripts as a group, many of the previously split episodes became full episodes.
Marshal Younger has written two full episodes and three split episodes. Phil Lollar did not write any episodes, but is, of course, the producer of all episodes. The majority of the other episodes were written by Jim Ware, John Beebee, and Kathy Wierenga. Charlie Richards and Lissa Halls Johnson also wrote a few episodes.
There will be no Imagination Station episodes, but there will be some uses of the Room of Consequence.
The short skits in the middle of AIO episodes will continue in the spring, but may not continue for the Fall of 2000.
CONFIRMED EPISODES:

| | |
| --- | --- |
| | "The Dangerous Haircut" by John Beebee, a story about Samson, told entirely in poetry. |
| | Live episode from the National Religious Broadcasters conference, by Charlie Richards and Kathy Wierenga (Season finale) |
Adventures in Odyssey is a presentation of Focus on the Family. All characters and episodes are copyrighted by FOTF. This site is not in any way affiliated with Focus on the Family.