June 2000
Back to News Archive
Back to AIOHQ Home Page
Bob Luttrell Returns to AIO
June 26—Beginning with the third and fourth episode of the fall 2000 season, Bob Luttrell will begin working on the sound design of Adventures in Odyssey programs again. Bob was the original AIO production engineer and worked with the program until 1995, with 337: W-O-R-R-Y being his last show. While Bob will be working on many of the shows, he will remain a free-lancer.
A Few Hints about the Fall Season
June 22—Have you been wondering about the fall season? Here are a few clues to get you started. (A special thanks to Paul McCusker for his help with these.)
| | |
| --- | --- |
| | Aubrey Shepard is persuaded to take another trip in the Imagination Station and it brings her face-to-face with a wild man, a cunning king and a spoiled princess. |
| | Nathaniel Graham has a secret that the gang at Whit's End are determined to bring out in the open. |
| | An old friend returns to Odyssey which brings Alex to a life-changing decision. |
| | KIDS Radio presents an unusual spin on a familiar story. |
| | Detention, a fat lip and a missing book report are just the start of the worst day Mandy ever has. Can things get any worse? They sure can. |
July Re-Air Schedule
The following programs will air on the weekends in July:
AIO Album 34 Released this summer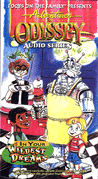 June 2, 2000 — Adventures in Odyssey Album 34 will be released in mid-August and titled "In Your Wildest Dreams". The album contains Bethany's Flood, which was not released on the radio, and Passages, which aired last fall.
Here is the Episode Listing:
437: Sunset Bowlawater/The Long Way Home (Split)
440: I Slap Floor
441: What Do You Think? / Idol Minds (Split)
443: Changing Rodney
445: No Boundaries
446: A Matter of Manners/The Seven Deadly Dwarves (Split)
447: Potlucks and Poetry
448: Mandy's Debut (It's All My Fault/I'll Do It My Way) (Split)
422: Passages, Part 1
423: Passages, Part 2
438a: The Lyin' Tale (Split)
???: Bethany's Flood
442a: Two Roads (Split)
444b: The Bad Guy (Split)
AIO June Weekend Re-Airs
The following programs will air on the weekends in June:
Adventures in Odyssey is a presentation of Focus on the Family. All characters and episodes are copyrighted by FOTF. This site is not in any way affiliated with Focus on the Family.