June 2001
Back to News Archive
Back to AIOHQ Home Page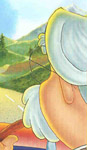 Spring 2001 Poll Results
Curious as to the most popular shows, moments, and characters for the last season? We took a poll of the fans.
New Odyssey Times Online!
June 2—Take a look at the latest issue of the Odyssey Times! This one involves instances on the last few shows of the season.
Adventures in Odyssey is a presentation of Focus on the Family. All characters and episodes are copyrighted by FOTF. This site is not in any way affiliated with Focus on the Family.