November 2000
Back to News Archive
Back to AIOHQ Home Page
Prince Caspian Available from Radio Theatre
November 28, 2000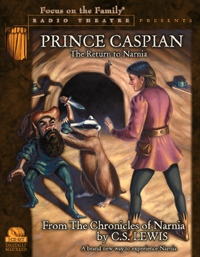 The latest in the Radio Theatre adaptations of The Chronicles of Narnia, is now available. "Prince Caspian," the second book to be published (and the fourth in chronological order), finds the four children from the first book once again in Narnia. But this time Narnia doesn't even seem to have knowledge of their first visit.
Odyssey fans will recognize the writer of this adaptation, Paul McCusker; the producer, Dave Arnold; and the production engineer, Todd Busteed.
Order the cassette:
| | |
| --- | --- |
| | |
| | |
| | |
Order the compact disc:
| | |
| --- | --- |
| | |
| | |
| | |

Radio Theatre Schedule Announce
November 28, 2000
Shows
Air Dates
The Luke Reports (5 parts)
December 9 - January 6
Silas Marner (4 parts)
January 13 - February 3
Prince Caspian (8 parts)
February 10 - March 31
Source: Focus on the Family Magazine
Odyssey Times and Scoop Updated
November 27, 2000
| | |
| --- | --- |
| | The Odyssey Times, published on the official site, has been updated with an entirely new issue. |
| | The December Odyssey Scoop, published in Clubhouse magazine is now available. NOTE: This article will probably make more sense if you read it after you hear Opportunity Knocks, coming this weekend. |
November 21—Nova Rising, one of the most talked about upcoming Odyssey episodes will air on February 3, 2001. The episode will begin the spring "season" of shows and is written by Marshal Younger. The new episode will follow six weeks of show re-airs from the previous seasons. This year's break is a few weeks shorter than last year's break between seasons.
November 21—The following shows will comprise the weekend schedule over the Christmas season and the month of January.
December Schedule
November 19—Get the December AIO episode listing.
Adventures in Odyssey is a presentation of Focus on the Family. All characters and episodes are copyrighted by FOTF. This site is not in any way affiliated with Focus on the Family.