Nathan Hoobler Basic Biography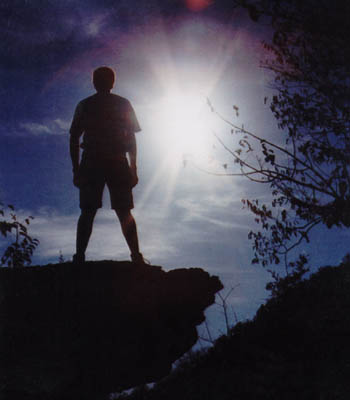 About Me (The Essential Facts)

Age: 27
Location: Colorado Springs, Colorado
College: Asbury College; Wilmore, Kentucky
Major: Media Communication
Home state: Pennsylvania.
Siblings: Five, all younger

My interest in Adventures in Odyssey began sometime in 1988. I don't know exactly when, though I do remember hearing "The Case of the Secret Room." I became a much bigger Odyssey fan after I got my first album "Other Times, Other Places." I eventually began getting all of the albums, books, and videos.

In 1999, I started the AIOHQ website and in the summer of 2000, I got the opportunity to work with the Adventures in Odyssey team for a few months. For about a year and a half, I worked for the show on a freelance basis and wrote about five scripts. I became a full-time staff writer for Odyssey in January 2002.

And what else is there? Well...

I produced a personal magazine (named Fun Book) from 1988 to 1998. When it started, it was three pieces of paper stapled together. When I closed up shop, I had about 150 subscribers and 12 issues a year.

When I was a senior in high school, I did a 90 minute presentation on motion picture special effects (which was the culmination of months of research, writing, and video editing) which sparked my interest in motion pictures. Since then, movies have become one of my primary hobbies and interests. I'm especially interested in animated movies. Unfortunately (or fortunately perhaps), drawing isn't my forte or I may have persued animation as a career.

Recent films that I've especially enjoyed: (though I'm sure I've forgotten some!)
Favorite films of 1999: Toy Story 2, Tarzan, Star Wars: Episode 1, The Matrix, The Sixth Sense
Favorite films of 2000: Chicken Run, The Emperor's New Groove, Crouching Tiger, Hidden Dragon
Favorite films of 2001: Monsters, Inc., The Lord of the Rings: The Fellowship of the Ring.
Favorite films of 2002: A Beautiful Mind, Panic Room, Minority Report, Signs, Harry Potter and the Chamber of Secrets, Treasure Planet, Catch Me If You Can, Chicago, The Lord of the Rings: The Two Towers
Favorite films of 2003: Holes, The Matrix Reloaded, Finding Nemo, Pirates of the Caribbean, He Loves Me He Loves Me Not, Freaky Friday, Master and Commander, The Lord of the Rings: The Return of the King
Favorite films of 2004: Ella Enchanted, Harry Potter and the Prisoner of Azkaban, Spider-man 2, Hero, Collateral, The Incredibles
Favorite films of 2005: The Aviator, Million Dollar Baby, Hotel Rwanda, The Intepreter, Kingdom of Heaven, Cinderella Man, Batman Begins, Serenity, Wallace & Grommit, Crash, Munich, King Kong
Favorite films of 2006: United 93, Hoodwinked, V for Vendetta, X-Men 3, Monster House, Stranger than Fiction, Casino Royale

A random assortment of other really great movies:
Beauty and the Beast, Contact, Dances with Wolves, Schindler's List, E.T., Forrest Gump, The Princess Bride, the Back to the Future trilogy, Speed, Aliens, Stand by Me, War Games, The Game, Empire Strikes Back, The Fugitive, The Hunt for Red October, The Shawshank Redemption, It's a Wonderful Life, Searching for Bobby Fischer, Touching the Void, Rear Window, Frequency, Searching for Bobby Fischer, Shadowlands

Probably as an offshoot of my interest in movies, soundtracks are my primary source of listening material (aside from Odyssey, of course).

While I was in college, I was the president of the Asbury Outdoors club. We planned about four trips per semester to various places in the surrounding area. These trips include backpacking, hiking, caving, climbing, canoeing, and biking.

Also in college, I worked with the Challenge Course (a team and leadership building event) and on the college web page. I was also the "On-Line Editor" for the Asbury Collegian for three years.

My most recent readings: Harry Potter and the Half-Blood Prince, The Ragamuffin Gospel, Deep Survival, Different Seasons, and Endurance.

Just why hasn't this website been updated as much? Well, I've been busy exploring Colorado...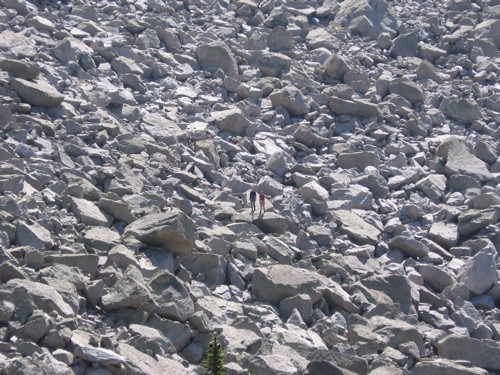 My brother Bryson and I in a boulderfield in Wyoming's Wind River range, September 2006.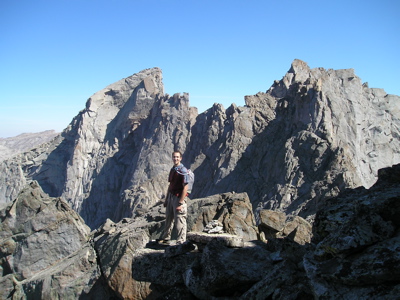 On a climb of Overhanging Tower, Cirque of the Towers, Wyoming, September 2006.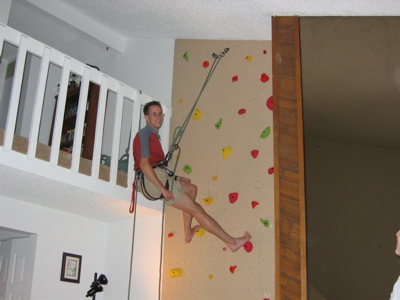 I made a few additions to my living room this summer.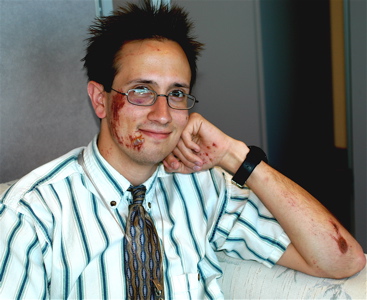 Summer 2006 was not without injury. The aftermath of a bike wreck.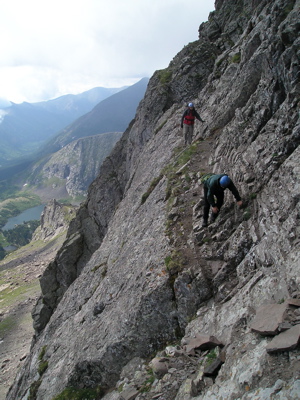 A somewhat wild traverse on Milwaukee Peak with John and John, July 2006.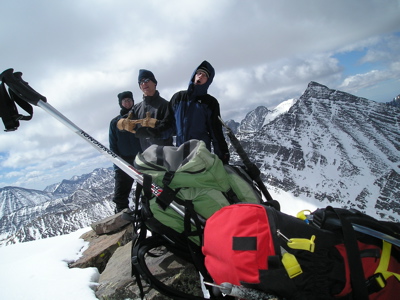 A winter mountain adventure with Trent and Brian. We climbed six 13,000 peaks in the Sangre De Criso range this day, May 2006.
Devil's Thumb, Indian Peaks Wilderness. John Doryk, Jim Burnett (not pictured) and I climbed it September 2005.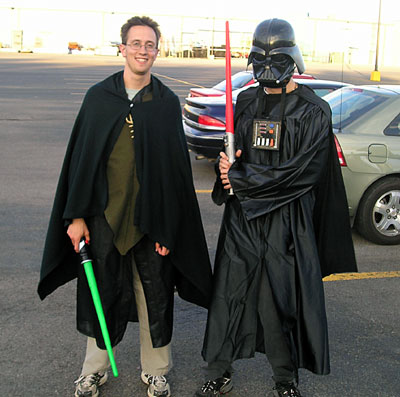 Okay, so I'm a geek. My brother Landon and I attending Revenge of the Sith, May 2005.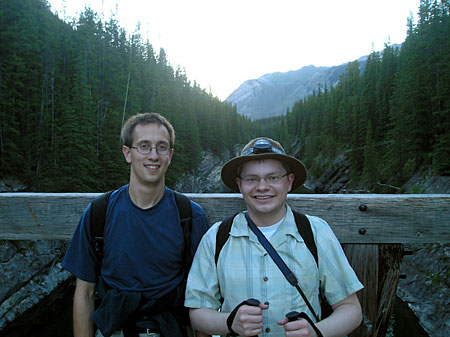 In Banff National Park, Alberta with fellow webmaster Shadowpaw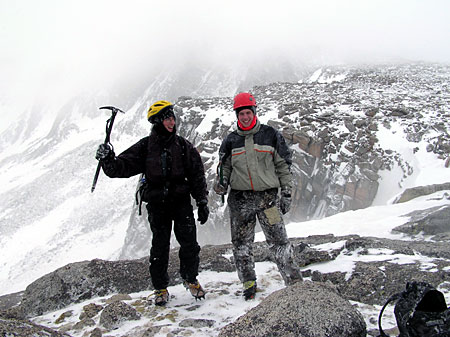 Just after climbing the Sunrise Coulior on Mt. Evans with my brother Nolan, June 2005.
Me climbing Hully Gully near Colorado Springs, March 2005. John Doryk and I climbing this frozen waterfall after searching for it for a long time.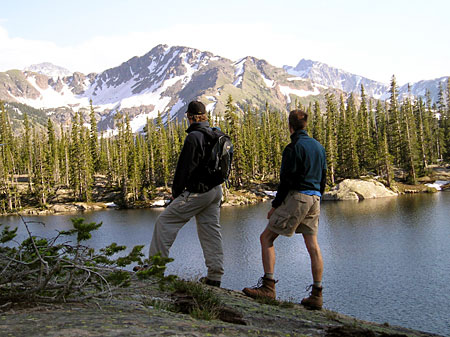 My brother Nolan and I at Gourd Lake, Indian Peaks, Colorado, July 2005.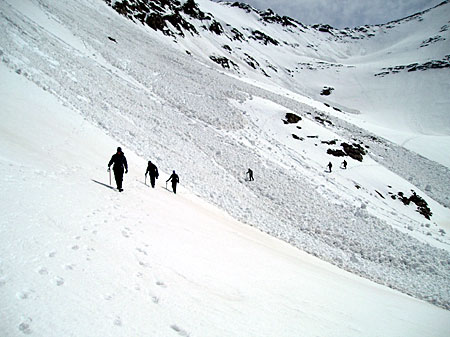 A climb of Blanca Peak with fellow Asbury College grads, May 2005.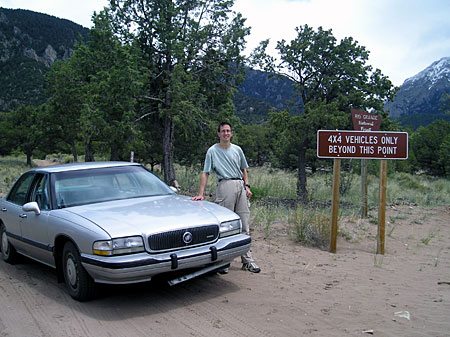 The sign was really just an advisory. Sangre De Cristo Wilderness, June 2005.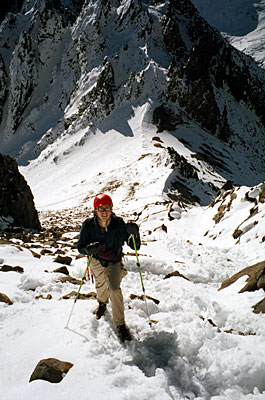 The Summit Coulior on Mount Sneffels. I had the honor of climbing with Rich Welch on his 54th and final Colorado Fourteener. September 2005.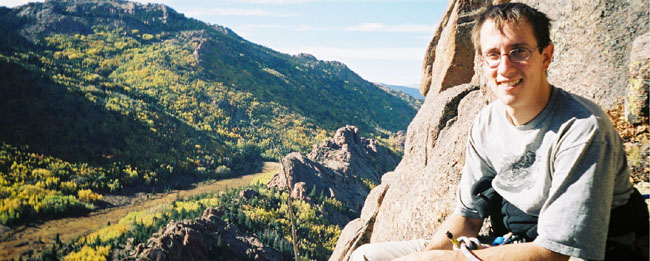 A backpacking / rock-climbing trip in September 2003.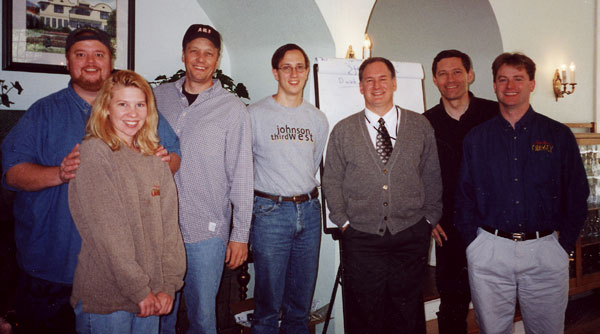 The Odyssey writing team — November 2002.
From left to right: Writer Torry Martin, Writer/Director Kathy Wierenga, Writer/Producer Bob Hoose, Writer Nathan Hoobler, Executive Producer Paul McCusker, Writer/Director John Fornof, Writer/Producer Marshal Younger