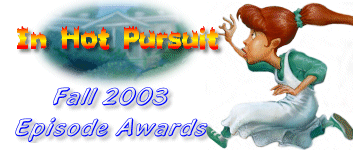 It was the season of the second Odyssey road trip. A full six of the nine episodes dealt with the storyline of Connie and Joanne on the road. The road shows included episodes with Connie counseling young children ("Black Clouds," "Pink is Not My Color"), action/adventure ("Silver Lining"), and an extended climax in Washington, DC, that spelled the very end of the Connie/Mitch relationship ("Something Blue"). Meanwhile, back in Odyssey, Bart and Edwin were up to their old tricks ("The Taming of the Two"), the Washington kids learned a lesson about responsibility ("The Mailman Cometh"), and we learned more about Max and Mandy ("Teacher's Pest"). The only storyline left unresolved at the end of the season was Liz and Mandy's feud which began in "Seeing Red." Once again, a Connie-Mitch season ender written by Kathy Wierenga dominated the awards.Read thoughts from Shadowpaw of Soda Fountain fame in red.
AIOHQ sponsored their traditional "End of Season" Awards. Voting lasted a month in December and Januar, with results posted below. Thanks to the many fans who voted!

Get episode information and character listings for this season.


Check out past Season Polls.
Best Performance by a Male Actor
Earl Boen (32)
Edwin Blackgaard in "The Taming of the Two"

31%
Steve Burns (30)
Robert Mitchell in "Something Blue"
29%
Alan Young (20)
Jack Allen in "Seeing Red"
20%
Gary Klemmer (11)
Vic Hamilton in "Silver Lining"
11%
Walker Edmiston (9)
Bart Rathbone in "The Taming of the Two"
9%
Earl Boen and Steve Burns have both played two memorable characters in Odyssey—the Blackgaard brothers and Mitch/Rodney, respectively. Earl's performances as Edwin have always been hilarious and "The Taming of the Two" was no exception. It was a close race, however, with Steve (last season's winner) coming in a close second.
Second prize winner Jess Harnell is no stranger to the awards. His hilarious and heartfelt Wooton placed second (for "Bassett Hounds") and first (in "For Trying Out Loud") in previous awards.
Best Performance by a Female Actor
Katie Leigh (53)
Connie Kendall in "Something Blue"
51%
Aria Curzon (20)
Mandy Straussberg in "Teacher's Pest"
19%
Tierra Abbott (18)
Michaela "Mike" Bourland in "Pink Is Not My Color"
17%
Janet Waldo (8)
Joanne Allen in "Something Blue"
8%
Ashley Rose Orr (5)
Lindy in "Black Clouds"
5%
Katie Leigh's win as Connie came as no suprise. This is her fifth straight win and it's once again for a tough emotional show ("Something Blue"). Connie had to go through a whole range of emotions this season and Katie's performance never faltered. It's no wonder she's become such a popular (and prominent) character. Katie's past wins have been for "Here Today, Gone Tomorrow?" "Do or Diet," "The Unraveling," and "Plan B." In a tight race for second, Aria Curzon won out for her performance in "Teachers' Pest."
Best Sound Design
| | |
| --- | --- |
| Something Blue, Parts 1 & 2 (29) | 28% |
| Silver Lining (23) | 23% |
| The Mailman Cometh (14) | 14% |
| Black Clouds (14) | 14% |
| The Taming of the Two (11) | 11% |
| Pink Is Not My Color (6) | 6% |
| Teacher's Pest (3) | 3% |
| Seeing Red (2) | 2% |
Continuing a pseudo-tradition of "new guys" winning the Best Sound Design award, Glenn Montjoy won for his detailed work on "Something Blue," a show that required emotional, touching scenes and comedic moments and high action. In a close second, "Silver Lining" with it's exciting near-drowning won second.
SHADOWPAW'S THOUGHTS:
Do people really notice the sound design of an episode? I'll admit, I notice when an episode has really bad design. Or when an episode has some really cool effect that separates it from the other episodes. Silver Lining had the great drowning sequence, and Something Blue had… great wedding music. It's a tough category to judge without going back through and listening for it, so I digress… these awards usually go to the "epic episode" of the season, and this time around it's no different.
Best Scene
Like a Daughter to Me — "Something Blue, Part 2" (34)
Connie and Whit talk about her upcoming wedding (and whether she's ready). Connie asks Whit to walk her down the aisle.

33%
How Could You Jack? — "Seeing Red" (26)
Angry about Mitch's poorly written letters, Connie argues with Jack as if he were Mitch.
25%
I've Been Slapped Twice! — "The Mailman Cometh" (20)
Wooton Bassett acts as a weight-guesser at a local fair, but ends up offending people.

19%
Thou Warped Dread-Bolted Flap-dragon! — "The Taming of the Two" (14)
Edwin Blackgaard and Malcolm Lear argue using Shakespearean English.
14%
Hold On! — "Silver Lining" (10)
Connie Kendall nearly drowns in the Gentle River before she is saved by Vic Hamilton.

10%
This season's race for "Best Scene" was the closest yet, with no one scene in a landslide victory. In the end, two great Connie scenes won the prizes. First place went to a touching scene between Connie and her spiritual father, Whit. Great writing, great performances, and great production made this scene one that is sure to be remembered as one of the "top" Connie/Whit scenes. Second prize went to a humorous scene between Connie and Jack which perfectly highlighted the personalities of both characters.
SHADOWPAW'S THOUGHTS:
This is one of those fun categories, because I never know which scene is going to win. Usually. This time around, I was fairly certain the really great scene between Connie and Whit would win and it did. It really was the hands down best moment of the season, not to mention a shining moment for Paul Herlinger. I'd like to hear more of this side of Whit from him. The other nominees are fun, but the Connie/Whit scene was really the most moving.
Best Episode
| | |
| --- | --- |
| Something Blue (45) | 43% |
| The Taming of the Two (17) | 16% |
| The Mailman Cometh (15) | 14% |
| Pink Is Not My Color (10) | 10% |
| Silver Lining (8) | 8% |
| Teacher's Pest (4) | 4% |
| Seeing Red (4) | 4% |
| Black Clouds (1) | 1% |
In a repeat of last season, the reaction was sharply divided over the final episode. For Part 1 of "Something Blue," many fans loved the ending because Connie and Mitch were now getting married; many other fans hated the idea and even more hated the idea of losing Connie to Budapest for two years. When Part 2 aired, reaction was once again diverse. Fans of Mitch didn't like him leaving Connie behind and wondered about the whole relationship. Other fans were happy that Connie would still be around. And many thought the show was great dramatically. But it was still a very uncertain feeling on the web. "Blue's" victory can be taken as a sign of fan approval or an acknowledgement of the skill that went into crafting the detailed show. Overall, it's an episode that will keep fans talking and debating for some time to come.
Edwin, Malcolm, and Bart's dramatics in "The Taming of the Two" won second place.
SHADOWPAW'S THOUGHTS:
I'll be the first to admit I didn't like Something Blue I. Lots of talking, Mitch wasn't being very nice to Connie, the whole marriage thing seemed all wrong. But Something Blue II, blue me away. Hehe, ah, yeah. So overall, my overall enjoyment of Something Blue II was so great that it evened things out, and definitely Something Blue was my favorite episode the season. Oddly enough, I think the order these episodes finished are the same as my own personal rankings.