MARCH 2000
Order The Horse and His Boy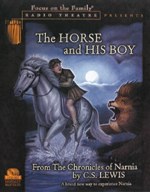 The FOTF Radio Theater production of C. S. Lewis's The Horse and His Boy is now available to order. The creation features incredible sound effects and excellent actors. Click here to order from FOTF. Mark Drury, Dave Arnold, Paul McCusker, John Campbell, and others worked on this production.

NEW Album -- Star Spangled Stories Released May 9th.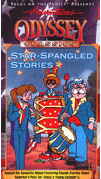 There's a new AIO classic album coming out May 9th! Check out the details or pre-order Star Spangled Stories of American History (Classics 6). Finally, The Underground Railroad and other excellent history episodes are on a "Classics" album. The AIO classics series has been designed to put AIO episodes together that are of a similar type or theme. Past "classics" albums have included an introduction to the series, mysteries, Old and New Testament Stories, and comedies.

Adventures in Odyssey is a presentation of Focus on the Family. All characters and episodes are copyrighted by FOTF. This site is not in any way affiliated with Focus on the Family.