October 2000
Back to News Archive
Back to AIOHQ Home Page
We're Back!
The AIOHQ was down from the afternoon of Friday, October 27 until around midnight October 31. The server that supports AIOHQ.com (serviced by Toolcity/Stargate) had some problems with the account, which are apparently resolved now. This is the longest that AIOHQ has been down since it premiered on February 1, 1999.
October 26—The newest issue of the Odyssey Times is now online at The Official AIO site. The site follows in the tradition of the Odyssey Times that previously were done as actual print versions.
The Odyssey Times to Debut at Official Site
October 23—The Official AIO site announces that it will premiere a section with The Odyssey Times on Thursday. This section will contain articles and stories similar to those featured in the original print versions of the Times. The stories are written from the perspective that The Odyssey Times is the Odyssey newspaper and a group of people came to Odyssey to make radio dramas loosely based on town events.
November 2000 Odyssey Scoop
October 23—KIDS Radio to debut exciting new drama -- The newest Clubhouse magazine article is on the web. It's all about the upcoming KIDS radio musical. The Odyssey Scoop is published monthly in Focus on the Family Clubhouse magazine.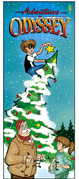 New Odyssey Merchandise Available -- Christmas Collection
October 7—A three-cassette Odyssey Christmas collection. It includes: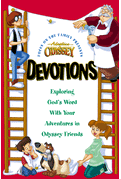 New Odyssey Merchandise Available -- Devotional Book
October 3—Soon to be available from Adventures in Odyssey, this devotion book for ages five to nine contains sixty-six short three-page lessons, starring characters primarily from the Odyssey videos.


Fall Season Schedule Released
October 1—The Official AIO website released the fall 2000 season schedule.
| | |
| --- | --- |
| | September 30: The Big Deal, part I |
| | October 7 : The Big Deal, part II |
| | October 14 : Life Trials of the Rich & Famous |
| | October 21 : Missionary Impossible |
| | October 28 : The Great Wishy Woz, part I |
| | November 4 : The Great Wishy Woz, part II |
| | November 11 : Best Laid Plans |
| | November 18 : Worst Day Ever |
| | December 2 : Opportunity Knocks |
| | December 9 : Red Herring |
| | December 16 : Slumber Party |
Adventures in Odyssey is a presentation of Focus on the Family. All characters and episodes are copyrighted by FOTF. This site is not in any way affiliated with Focus on the Family.