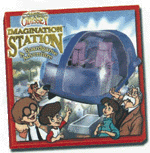 CBD Description:
"Enter the Imagination Station, and travel to the past, present, or future in search of chips that make up the Diamonds of Virtues. Your children will have hours of fun playing this exciting new board game from Adventures in Odyssey and Focus on the Family---while learning about love, truth, faith, forgiveness, self-control, loyalty, courage, and trust! Ages 6 and up."
Review:
Aside from the names "Imagination Station", "Room of Consequence", and "Transmuter", and a few illustrations throughout the game, there are really very few ties to the audio series. Most of the pictures on the cards, board, etc. are from the video series, but the game is not really based on any storylines per se. In other words, the exact same game could probably be applied to another franchise (like Veggie Tales) by simply changing the illustrations and a couple names.
However, the game is rather interesting and fun to play, especially for younger children. Also it has some interesting choices, such as where you can decide whether you will help another stuck player or not.
As far as "lessons" from the game, I would have rathered that the Bible verses be incorporated a little more into the game. As it is, only the reference is given on cards and you have to look it up on the instructions (or in the Bible yourself).
If you're looking for game that incorporates a lot of elements and characters from the audio series and teaches a lot of lessons, I'm afraid this isn't the one. However, if you're looking for just a fun, rather simple little game that is wholesome, search no further.
Rating: 3 stars