September 2001
Back to News Archive
Back to AIOHQ Home Page
Read an exclusive interview with Torry Martin
September 22—The creator of Wooton Bassett was kind enough to answer some fan questions recently posed to him. Read the full Q & A or surf the Torry links below!
Official Site announces Novacom Trivia Contest
September 22—The Official Site has announced that it will hold a Novacom trivia contest on it's upcoming Wonderworld section (opening October 1). The winner will get to hear a scene from a show that has never been heard before.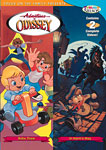 Adventures in Odyssey on DVD!
September 22—TommyNelson.com has announced the first Adventures in Odyssey on DVD. (All previous videos have been released on video only.) No release date has been announced. The first DVD includes:
2 audio shows (not yet announced)
Screensaver and wallpaper for your computer
Album #37 Cover Art Released

September 22—The cover art for album 37, named "Countermoves" has been released by TommyNelson.com. Keep in mind that this may be preliminary cover art (note that the name of the album isn't on the cover yet). (Thanks to the Odyssey Scoop for the tip.)
Get the latest Odyssey Scoop
September 21 — Read the latest Clubhouse magazine Odyssey Scoop. This month features an article about Wooton.
Album #37 will be titled....Countermoves
September 20—The next album of Adventures in Odyssey will be titled "Countermoves" according to Christianbook.com. No release date for album is specified. The previous album, Danger Signals, was just recently released.
Focus posts letter, donation information for AIO
September 12—Focus on the Family, the organization that produces Adventures in Odyssey, has posted a webpage encouraging people to donate to Odyssey and other ministries. The page features a letter from a parent about her child listening to AIO.
Meet the Odyssey Team in Colorado Springs!
September 7—The Official site has posted information about an Odyssey event in Colorado Springs.
Here's the full text of the news release:
In Colorado Springs... MEET THE PEOPLE BEHIND AIO

Saturday, September 8th, the writers and producers of "Adventures in Odyssey" will be on hand at Focus on the Family. Visitors may test their O.I. (Odyssey Intelligence) with an Odyssey Trivia Contest, take part in an Odyssey interview—and may be on the air! See the latest Odyssey album, "Danger Signals." And enjoy the AIO Film Festival—playing all the Odyssey videos back to back.

It's all part of Focus on the Family's Fall Festival—a fun-filled day for the whole family. If you live nearby, come join the fun!
Adventures in Odyssey is a presentation of Focus on the Family. All characters and episodes are copyrighted by FOTF. This site is not in any way affiliated with Focus on the Family.