Notes:
This show featured the first "behind the scenes" look at the show, rather than a look back at the specific storylines. Interviews and voices heard (aside from previously recorded clips) included the following production team members: Dave Arnold (Production Engineer, Producer), John Beebee (Writer, Director), Chuck Bolte (Executive Producer), John Campbell (Composer), Jonathan Crowe (Production Engineer), Mark Drury (Production Engineer), Steve Harris (Co-creator, Producer), Nathan Hoobler (Writer), Rob Jorgensen (Production Engineer), Paul McCusker (Writer, Director, Executive Producer), Glenn Montjoy (Production Engineer), Kathy Wierenga (Writer, Director), Marshal Younger (Writer, Director, Producer).
Actors featured in interviews were: Chris Anthony (Host), Steve Burns (Rodney Rathbone, Robert Mitchell), Corey Burton (Cryin' Bryan Dern, Walter Shakespeare), Townsend Coleman (Jason Whittaker), James D. Griffin (Jimmy Barclay), Paul Herlinger (John Avery Whittaker), Katie Leigh (Connie Kendall), Ed Walker (Tom Riley, Bart Rathbone), Alan Young (Jack Allen).
Several unique features included:
A clip of the (never used) original Odyssey theme by John Campbell.
A brief history of the creation of Odyssey, including the four central characters (Whit, Tom, Connie, Eugene) and their names.
The actors demonstrating how they change their voices for their characters.
Bloopers from past Odyssey shows, including: 367: The Decision, 280: Gone..., 203: Double Trouble, and 213: Best Intentions.
Testimonials of how AIO has affected the lives of listeners and actors alike
500 seconds of clips from Odyssey shows, including hundreds of brief clips and various music cues.
During the closing wrap, each member of the Odyssey team (past and present) interrupts Chris's wrap.
VERSION DIFFERENCE: An "extended" version of the show was available on the Internet and featured an extra four minutes not included on the broadcast version. (Included in the "web cut" were the following:
Steve Harris talks about the potential audience for Odyssey and how the writing was to appeal to kids and adults. This segment includes clips from 106: By Any Other Name, 326: Gathering Thunder, 321: Hidden in My Heart, and 413: The Devil Made Me Do It.
Paul McCusker says the thing he liked about Whit's End was that it was like Snoopy's doghouse. The segment includes clips from 39: The Case of the Secret Room, Part 1 and 102: The Treasure of Le Monde!.
In the section about Tom Riley, Steve Harris talks about Tom being a contemporary for Whit. A clip from 462: The W. E. is heard.
In the segment about Chris, Steve tells a story about her first recording session. Chris read, "As it says in the book of Eye Kings."
There are several more "bloopers," including one where Eugene coughs while saying, "Welcome to Odyssey!"
The clip of Will Ryan and Hal Smith jamming on the eukulele is much longer.
The segments about Connie and Eugene both have slightly longer clips.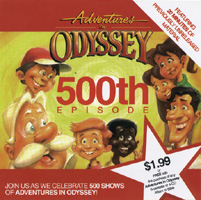 A special CD is available featuring an additional 20 minutes of material, for a total of 45 minutes. The extra material is hosted by Marshal Younger and includes:
Walker Edmiston (Tom Riley) and Paul Herlinger (Whit) talk about their favorite Odyssey shows.
David Griffen (Jimmy Barclay) telling the story of the day his voice cracked in the studio.
Townsend Coleman (Jason Whittaker) and Alan Young (Jack Allen) tell the story of the development of their characters.
Katie Leigh (Connie Kendall) and Paul Herlinger (Whit) tell humorous stories.
Chris Anthony has some fun with the wrap-up for "500."
As of the time this episode aired, Odyssey had produced 500 original radio episodes (250 full hours of programming), 16 half-hour videos, and 20 novels.